This morning I met with John again for Boxing Day: The Sequel. He kicked my ass even harder this time. I shadow boxed! I jabbed! I uppercutted! I hit the speed bag! I did sit-ups and crunches and tricep dips!

Last week I picked up the book The Gleason's Gym Total Body Workout for Women, and learned that I was correct about the 3 minute rounds with the 1 minute rest in between. The point of this is to get your body used to going all-out for 3 minute intervals (the length of an actual round). It's really cool to learn about a whole new sport!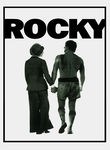 John told me today that his favourite boxing movie is Rocky (which I haven't seen!) and that The Champ made him cry. Another one I'll have to see is Raging Bull, which was filmed at Gleason's.

I'm going back on Friday. I hope I get to jump rope and try the sand bag soon!